Soldiers help evacuate to safer area as a powerful typhoon approaches Taizhou, east China's province Zhejiang.
This typhoon targeted China's booming eastern province Zhejiang and financial hub Shanghai, prompting evacuation of 10000′s people as ships were called back to port.
This typhoon expected to be among the most powerful storms to hit China in years churned toward the densely populated coast with 165 mph wind gusts, and the government evacuated two million people.
The fringes of Typhoon Wipha lashed Taiwan, where offices, schools and all markets closed. A construction worker was killed when the winds knocked down scaffolding.
Shanghai and the coastal provinces to the south issued typhoon warnings requiring all vessels to return to shore or change course to avoid the storm.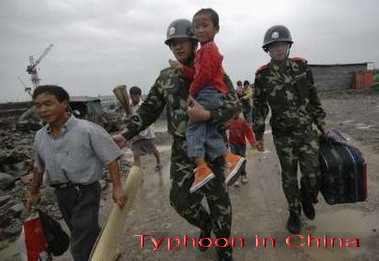 City authorities ordered schools closed Wednesday in Shanghai. Chinese state-run television showed families being evacuated from boats. Shopkeepers stacked sand bags to prevent flooding as drains clogged amid rains.
This typhoon, whipping up waves up to thirty six feet high, was moving northwest toward the Chinese mainland.
The deadliest storm to hit the China coast in recent years was Typhoon Winnie (1997 year). Winnie killed 236 people. Rananim typhoon, with winds of more than 100 mph, was the strongest typhoon to hit the Chinese mainland since 1956, killing nearly two hundred people.
Source: Reuter.