Do you see new Louis Vuitton Advertising?
The last president of USSR Mikhail S. Gorbachev is featured in a car, a Louis Vuitton bag at his side and the Berlin Wall in the background.
But what is the book at the top of the bag?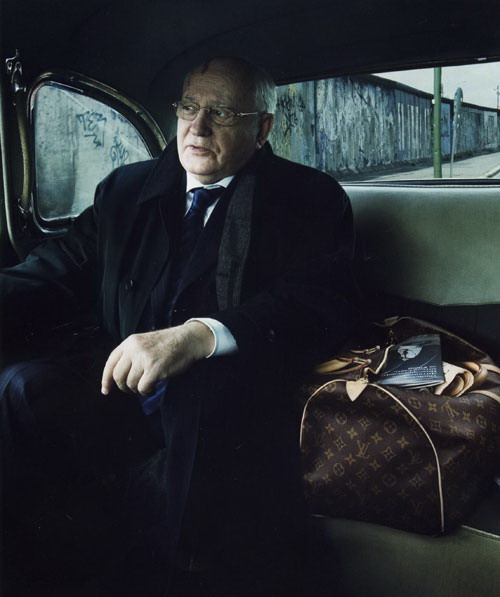 Increase and overturn…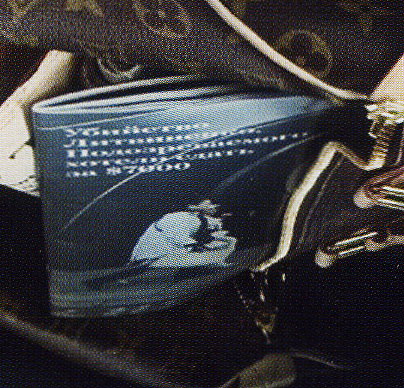 This book in Russian "Murder of Litvinenko. Treason for $7000″
What would it mean?
Information from Wikipedia:
"Alexander Litvinenko (30 August 1962[1][2] – 23 November 2006) was a lieutenant-colonel in the Federal Security Service of the Russian Federation and later a Russian dissident and writer. A son of a physician, Litvinenko was schooled in Nalchik, before being drafted into the Internal Troops of the Ministry of Internal Affairs as a private. After graduating in 1985 from the Kirov Higher Command School, he became a platoon commander in an Internal Troops regiment. Litvinenko became a KGB officer in 1986, and two years later, was moved into the Military Counter Intelligence.
In 1991, he was promoted to the Central Staff, and specialised in counter-terrorism and infiltration of organised crime. Six years later, he was promoted to senior operational officer and deputy head of the Seventh Section of the FSB. He was in charge of protecting Russian billionaire Boris Berezovsky. In November 1998, Litvinenko publicly accused his superiors of ordering the assassination of Berezovsky. He was arrested by Russian authorities and then released; he later fled to the United Kingdom, where he was granted political asylum and citizenship. Litvinenko tried to publish a book in Russia in which he described Vladimir Putin's rise to power as a coup d'etat organised by the FSB. He stated a key element of FSB's strategy was to frighten Russians by bombing apartment buildings in Moscow and other Russian cities. He alleged the bombings were organised by FSB and blamed on Chechen terrorists to legitimise reprisals using military force in Chechnya.
On 1 November 2006, Litvinenko suddenly fell ill and was hospitalised. He died three weeks later, becoming a rare victim of lethal polonium-210 radiation poisoning under highly suspicious circumstances. The fact that Litvinenko's revelations about alleged FSB misdeeds were followed two years later by his poisoning led to public accusations that the Russian government was behind his death, resulting in worldwide media coverage. A British police investigation resulted in several suspects for the murder, but in May 2007, the British Director of Public Prosecutions, Ken Macdonald, announced that his government would seek to extradite Andrei Lugovoi, the chief suspect of the case, from Russia.[3] On 28 May 2007, the British Foreign Office officially submitted a request to the Government of Russia for the extradition of Lugovoi to face criminal charges in the UK.[4] On 5 July 2007, Russia officially declined to extradite Lugovoi, citing the prohibition of extradition in Russia's constitution."